Wait till you try our 9th Hole!!
2021 Course Updates
Wide new tees on #2
New bunker and mounding on #3 right side just past 150 yd to the road
New forward tee on #4 in front of left spruce tree and trees
3 bunkers on left side of #6 – 150, 125, and 85 yd marks
New black tee on #8, right in the corner of the property
New mounding on the right side of #15 at the corner ( 125 yds out )
New mounding on #17 at the bottom right side ( 260 to 205 yds out )
This quietly peaceful course near the town of Sundre is set overlooking the Red Deer River Valley in the rugged beautiful foothills of Central Alberta. It features splendid views of the Eagle Valley to the East, and the magnificent Rocky Mountains to the west, the best views of which can be enjoyed from the 5th tee.
Its eighteen hole layout measures 6,341 yards from the back tees and plays over rolling terrain with 100 foot spruce trees lining the fairways in places. Its fairways are broad and generous, its greens large and undulating – making this a place where you can pull out the big stick and let it fly from the tee.
If you talk to anyone who has played the course, the hole they are most likely to want to tell you about is the Par 4 9th, a tricky 335 yard dogleg right that features a tee off over a large water hazard. Your first shot must be a minimum of 150 yards to clear the water hazard, with no convenient bail out area as an option. An excellent shot is also required for your approach to the 9th's two-tiered green, guarded in front by a pair of bunkers, and back-stopped by large spruce trees.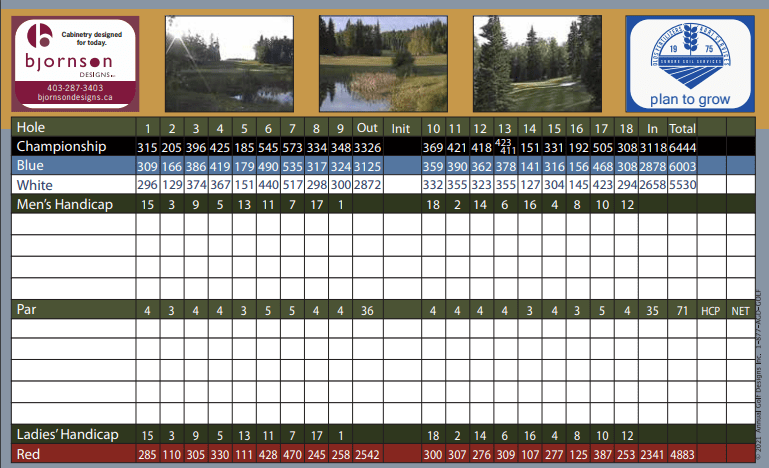 Course Ratings
| | | |
| --- | --- | --- |
| Men | Blue | 127/69.3 |
|   | White | 121/67.1 |
| Ladies | White | 135/72.3 |
|   | Red | 126/68.7 |
Local Rules include:
Please keep up to the group in front of you.
Pace of play- 9 Holes, 2 1/4 hrs or 18 Holes 4 1/2 hrs
Boundary Fences out of bounds or white stakes.
Ball may be lifted, without penalty, and dropped one club length
from staked trees, planted trees and wells, water box, roadway,
pathway, ground under repair, course fixtures (ball washers,
benches, etc.) or immovable obstructions.
Penalty areas are defined by red stakes. Right side of 11 & 15 are
penalty areas.
No outside alcohol allowed, it will be confiscated.
Power carts are to remain on course at all times, do not enter woods.
R.C.G.A. Rules govern all play except where local rules prevail.